Our sincere gratitude for your support and participation of the Hong Kong SMART Hotel Summit.
The turnout was overwhelming with 220 participants including 120 hotel members.
This noted result is a concerted efforts of Hotel ICON, Hong Kong Polytechnic University (PolyU), Hong Kong Hotels Association (HKHA) and Hong Kong Science & Technology Parks Corporation (HKSTP).
One of the outstanding session was PolyU students insightful presentation on research findings of smart hotel essentials with segment focus on millennials conducted for HKHA, which truly impressed the audience.
Moreover, the panelists and the speakers are top notch and inspiring to hoteliers to review and to strategize the development of SMART hotel concepts.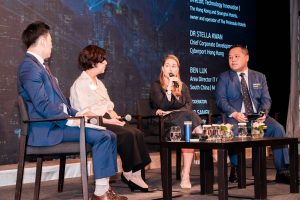 In concurrent, the IndustryConnect (market place) where 25 incubates/service providers of HKSTP showcased their smart hotel solutions are well received by hoteliers with follow-up engagements.
All in all, the event was a great success and we are reviewing the potential of having the same event next year.