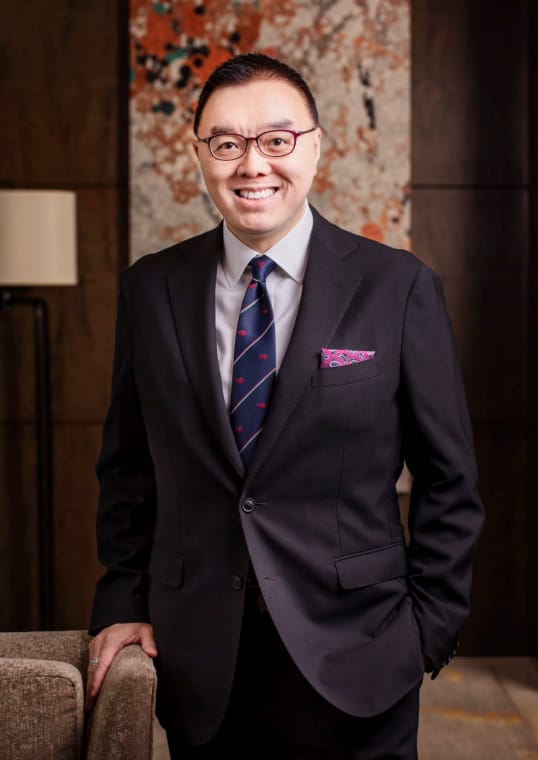 Mr Chak-fung Peter Wong
Chairman of HKHA
Mission Statement
The Hong Kong Hotels Association (HKHA) was established in 1961 to protect the lawful interests of hoteliers in Hong Kong and promote greater industry unity and co-operation among its members.
By providing useful information and data to members on related industry matters, it also ensures greater professionalism in the industry.
As the official voice of Hong Kong's hoteliers, the HKHA represents the collective views of the industry on all matters affecting hotel operation. It also performs a consultative role in proposed legislation arising from new Government policies and measures.
One of its key functions of the Association is to offer educational programmes to members through training courses and seminars. Some programmes are designed for more senior industry executives, whereby professors from leading international hotel schools are invited to conduct these programme. Such initiatives have received widespread recognition among members.
Another key objective of the Association is to ensure and uphold consistency in service and quality standards, as well as promote greater internationalism of our industry through the introduction of new technology and management techniques.
Today, the leadership of the HKHA typifies the hotelier – experienced in all aspects of managing a hotel and dedicated to serving the needs of both leisure and business travellers from around the world.
Executive Committee
CHAIRMAN
Mr. Chak-fung Peter Wong
Senior Vice President
ALVA HOTEL BY ROYAL / Royal Park Hotel / Royal Plaza Hotel / Royal View Hotel
1ST VICE CHAIRMAN
Mr. Luc Bollen
General Manager & Area Director
The Park Lane Hong Kong, a Pullman Hotel
2ND VICE CHAIRMAN
Mr. Alex Wu
Group General Manager
Hotel Stage
EX-OFFICIO
Mr. Felix M. Bieger
Advisor
The Hong Kong and Shanghai Hotels Limited
COMMITTEE MEMBERS
Mr. Victor Chan
General Manager
Harbour Grand Kowloon
COMMITTEE MEMBERS
Mr. Wilson Lee
General Manager
Hyatt Regency Hong Kong, Sha Tin
COMMITTEE MEMBERS
Mr. Ian Lee
General Manager
Hotel ICON
Mr. Christopher Chia
General Manager
Kowloon Shangri-La, Hong Kong
Ms. Rebecca Kwan
General Manager
Lan Kwai Fong Hotel
Ms. Sherona Shng
Managing Director
The Langham, Hong Kong
Mr. Alexander Wassermann
Head, Hotels & Serviced Apartments
The Mira Hong Kong / Mira Moon
Mr. Byron Ko
General Manager
Hong Kong Ocean Park Marriott Hotel
Ms. Renee Kim
General Manager
Regala Skycity Hotel
Mr. Michael Muller
General Manager
Sheraton Hong Kong Hotel & Towers
EXECUTIVE DIRECTOR
Mr. Patrick Kwok
Hong Kong Hotels Association
CHAIRMEN OF HKHA SUB-COMMITTEES
Mr. Luc Bollen
Sales & Marketing Development Sub-Committee
CHAIRMEN OF HKHA SUB-COMMITTEES
Mr. Alex Wu
Food Safety, Hygiene & Green Initiatives Development Sub-Committee
CHAIRMEN OF HKHA SUB-COMMITTEES
Mr. Victor Chan
Human Resources, Education, Training & Scholarship Development Sub-Committee
Mr. Wilson Lee
SMART Hotel Development Sub-Committee
Working Committee
HUMAN RESOURCES DEVELOPMENT COMMITTEE
CONVENOR
Ms. Amy Ho
Director of Human Resources
Cordis, Hong Kong
HUMAN RESOURCES DEVELOPMENT COMMITTEE
HEAD OF EDUCATION & TRAINING SUB-COMMITTEE
Mr. Patrick Chan
Director of Human Resources
Sheraton Hong Kong Tung Chung Hotel / Four Points by Sheraton Hong Kong Tung Chung
HUMAN RESOURCES DEVELOPMENT COMMITTEE
HEAD OF HEALTH & SAFETY SUB-COMMITTEE
Ms. Winnie Wong
Director of People & Culture
EAST Hong Kong
HEAD OF SPORTS & RECREATION SUB-COMMITTEE
Mr. Philip Kwok
Senior Human Resources Manager
Hong Kong Gold Coast Hotel
HEAD OF STAFFING, COMPENSATION & BENEFITS SUB-COMMITTEE
Mr. Colin Chang
Director, Talent Acquisition, Compensation and Benefits
Hong Kong Disneyland
CHIEF STEWARDS COMMITTEE
CONVENOR
Ms. Kaman Sin
Stewarding Manager
The Royal Garden
CREDIT COMMITTEE
CONVENOR
Mr. Tommy Lo
Credit Manager
Marco Polo Hongkong Hotel | Gateway Hotel | Prince Hotel
HOTEL ENGINEERS COMMITTEE
CONVENOR
Mr. Tenny Kwok
Director of Engineering
Grand Hyatt Hong Kong
EXECUTIVE HOUSEKEEPERS COMMITTEE
CONVENOR
Mr. Alan Cheng
Executive Housekeeper
Cordis, Hong Kong
SECURITY COMMITTEE
CONVENOR
Mr. Chris Lai
Director of Operations/Area Director of Risk Management
Royal Plaza Hotel
FOOD SAFETY & HYGIENE COMMITTEE
CONVENOR
Mr. Tommy Ng
Risk and Hygiene Manager
InterContinental Grand Stanford Hong Kong
Office Locations
Head Office
Suite 508 Silvercord Tower Two, 30 Canton Road Tsimshatsui, Kowloon, Hong Kong
AIRPORT COUNTER
B17 Counter, Arrivals Hall B, Terminal 1 Hong Kong International Airport, Chek Lap Kok, Lantau, Hong Kong